Visiting Companies
Whilst we are a small Theatre, with a relatively small staff, we pride ourselves on offering one of the warmest, most supportive welcomes to visiting companies, artists and promoters.
We can't wait to meet you! We want your visit to be smooth and stress-free, so please read over the information below before your visit. If you have any other queries please contact us.
Things to note
Mobile phone reception can be patchy in Chipping Norton. Welcome to the Cotswolds!
Smoking or Vaping is only permitted in our garden or outside of the building.
Theatre Access and Accessibility
The Theatre has two entrances, one on Spring Street and one on Goddards Lane. The normal entrance for cast and crew is located on Goddards Lane, where the daytime Box Office is situated. Outside office hours please ring the doorbell. Get-in access is on Spring Street, where parking is on double yellow lines. The route in includes several steps, a large single doorway and a twisty route through the foyer and auditorium.
There is level access from the Goddards Lane Box Office door through to Dressing Room 1, The Green Room, Toilets and the stage left wing. There are two steps in the run-around corridor between stage left and stage right wings. There is no flat access between the stage and the auditorium/bar except by going back out of the Goddards Lane Box Office and back in through the Spring Street entrance.
Regrettably, in our small period building, there are no lifts, and therefore access to Dressing Rooms 2 and 3, the Rehearsal Room, the Gallery and The Space are all via staircase.
Please contact us in advance to discuss any access needs and we will facilitate in any way we can.
Parking
The Theatre has no parking facilities. Most on-street parking in Chipping Norton is free but time limited, however, there are two car parks for longer stays. If you are unloading on Spring Street, please only do so in consultation with the Theatre technical staff, and be considerate of neighbours and other road users. Vehicles must be moved after the loading is complete.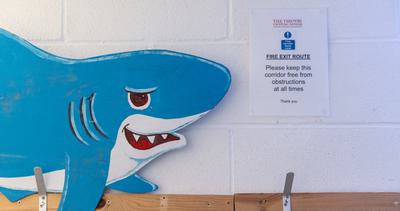 Facilities
Green Room

The green room contains a fridge, microwave, dishwasher, tea and coffee making facilities, sink and sofas.
Dressing Rooms

There are three dressing rooms, all with sinks and well-lit make up mirrors. Dressing room 1 (three person) is downstairs near the stage and green room. Dressing rooms 2 and 3 (five person and six person) are upstairs. There is one shower by dressing room 1.
Rehearsal Room

If you would like the use of our rehearsal room please contact the Technical or Programming team, preferably well ahead of time.
Shower & Toilets

There is one shower by dressing room 1. There is a bathroom adjacent to the green room on the ground floor and another on the first floor to the left as you come up the stairs.
Laundry

The Theatre has a washing machine, tumble drier, iron and ironing board, which may be used by visiting companies for costumes.
Stage

A technical specification is available on request from [email protected] or downloadable below.