Our History
Theatre, Comedy, Music, Cinema, Gallery, Workshops.
Arts and social impact since 1974.
Our atmospheric, beautiful little building began life as a Salvation Army Citadel, with the first stones, still visible outside, being laid in 1888. As was apparently common with Salvation Army buildings of the period, its designers and engineers were behind many Victorian Music Halls, leaving it perfectly proportioned for its future theatrical life. After the Salvation Army left, it continued for some years as a furniture warehouse, before being discovered for sale, semi-derelict, in 1968 by two Royal Shakespeare Company actors, Tamara and John Malcolm. In 1973, fundraising for the new Theatre began in earnest, and the year was crowned with The Theatre's first panto, Beauty and the Beast, staged in the town hall. The Theatre began as a true community resource, with residents of Chipping Norton each asked for £1 towards the conversion.
The Theatre building was opened in 1975 by a group of local and national celebrities, includingTom Baker (then Dr Who), and began with a light programme including films and lunchtime Jazz concerts. The adjoining cottage was purchased in 1974, and converted to become the bar and gallery. The Theatre continued to grow and flourish, expanding its programme and reputation, and beginning a programme of arthouse, independent and foreign language film that continues to this day. In 1990 The Theatre purchased the building in Goddards Lane that now serves as the green room, dressing rooms, offices and rehearsal room.
1996 saw a major refurbishment, funded in part by the Arts Council, improving many aspects of the building, particularly the stage and wing space. Graham Rust, one of Europe's finest muralists, was commissioned to produce the murals now visible in the bar. Not long after receiving a well deserved MBE for her services to The Theatre, Tamara Malcolm passed on the mantle of Artistic Director to Caroline Sharman. The current Artistic Director, the Theatre's third, is John Terry who has overseen The Theatre's rebirth as a regular producer of its own work.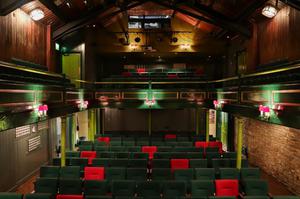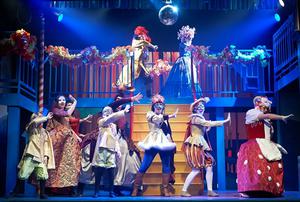 The Theatre has had a strong and growing reputation for producing, presenting and touring its own work. The world-renowned traditional family pantomime is our longest running and largest annual production, drawing on a long history of traditional values, top-notch creative teams, and original, daring twists. Since 2012, The Theatre has been producing several productions a year under its 'Homegrown' banner, with productions ranging from Tolstoy to Michael Frayn, Tennessee Williams to original family shows and remounts of modern classics. Increasingly, this work is now travelling further afield, touring the UK and collaborating with other venues across the country to make theatre of the highest quality. Recent press acclaim includes "A performance of dagger-like virtuosity" and "Mesmeric…riveting" – The Telegraph and The Independent on The Kreutzer Sonata (Arcola Theatre and Chipping Norton); " A superb display of comic timing and physical performance" and "Puts larger, more important producers/producing theatres to shame with this demonstration of what can be achieved with what I would imagine to be limited funds and resources" – The Stage and Stage Talk Magazine on Stones in His Pockets (UK Tour and Chipping Norton).
In 2010, The Theatre won the TMA Stage Newspaper Award for Outstanding Contribution to Regional Theatre, and stands as a rare example of a successful rural receiving and producing theatre, funded and supported almost entirely by local people, local councils and local businesses.
In recent years, The Theatre has taken an increasingly direct and impactful role in its community, working with local partners to tackle social inequality, isolation and lack of opportunities across the town and beyond.

"In order to survive we must be remarkable, unique and essential. We must thrive as a varied receiving house, a creative hub and producing company in order to do this. We want to make our work bigger, bolder and more diverse, and we seek a deeper connection with the community in which we live."

John Terry, Artistic Director - The Theatre Chipping Norton