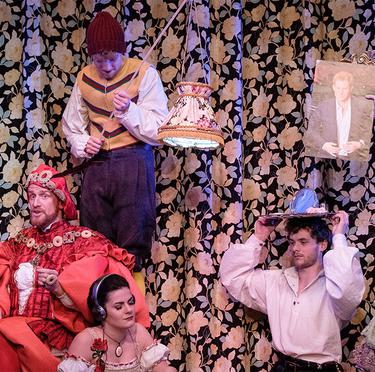 About Us
About Us
We are a theatre, an arthouse cinema, a gallery and a concert hall. We are a resource for our community, but we are also a professional venue, welcoming over 55,000 customer visits every year. We are something unique, but we are also different things to different people. We are the cause and subject of many arguments and debates, and a fair amount of acclaim and affection. We are complicated and a little eccentric.
We are not a little theatre. We like to make a big noise.

"A programme of distinctive artistic adventure"

The Guardian
"So charming it almost hurts"

The Daily Mail
In the heart of the Cotswolds, at the junction point of three counties and four regions, The Theatre Chipping Norton is a mixed arts venue, hosting, co-producing and supporting some of the most exciting, accessible and entertaining culture in the region. Our extensive community and education programmes engage with thousands of people each year through workshops, classes and creative projects.
We are a hub for local people, businesses and organisations to meet, work, play and be entertained. Come and join us and see why so many people have fallen for The Theatre Chipping Norton, and why it remains a local and regional treasure.
Our Values

Art for everyone, about everyone
We are here for everyone in our community, bringing people together to experience art, entertainment and cultural activities suitable for a broad variety of tastes, including work that reflects the diversity and challenges of our times, in an environment that strives to be inclusive and accessible to all.
Creatively Ambitious
We are a fundamentally creative organisation, providing a home for the artistic process. We use art and culture to create unforgettable moments in time that leave those that engage with it, locally and beyond, feeling moved, entertained and changed.
Entrepreneurial Spirit
We are a fast-moving, independent and entrepreneurial organisation, hungry for opportunities to deliver on our values, create partnerships and maintain robust financial health.
Lasting change for our Community
We use the power of art and culture, in partnership with others across our community, to improve people's lives, support healthy lives and self-expression, unite communities and tackle inequality. Read more about our Social Impact.
"More intelligent, more esoteric and more intellectually exciting than many a theatre several times its size"

Oxfordshire Life
Contact list of staff members
John Terry

Role

Artistic Director

Richard Greaves

Role

Chairman of the Board of Trustees

Jo Robinson

Role

General Manager