Relaxed Events
What is a Relaxed performance or screening?
We offer a range of relaxed theatre performances and screenings that are designed to offer a more easy-going performance environment. There will be a relaxed attitude to noise and movement, and audience members are free to come in and out of the auditorium during the performance. You can find out more about relaxed performances in our welcome video at the 5 minutes 40 second mark.
To create a more inclusive sensory environment the auditorium lights are kept on throughout the performance, the doors remain open, and we will soften loud noises and avoid sudden or surprising moments.
For anyone who might benefit from them, we have Twiddle Muffs available at Box Office. Twiddle Muffs provide visual, tactile and sensory stimulation whilst also keeping hands warm.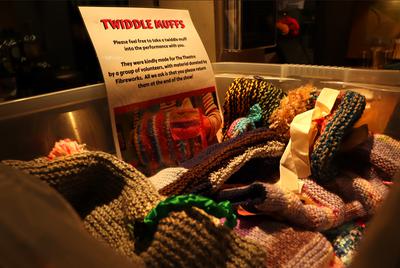 At relaxed performances we keep things low-key and do not play music in the bar area.
During relaxed events, we open our Break Out Space. This is a quiet space on the top floor above the Theatre, which you are free to access for as long as you need. In the space we have sensory lighting options, fidget toys, cushions and a range of different seating options, as well as activities such as mindfulness colouring or theatre word searches. There is a small library of children's books and beanbags in our book corner. If you would like to access our blackout sensory den or barefoot sensory trail please just ask one of the staff members at the Theatre. The Break Out Space is accessed via the bar, up two staircases. If you need help getting to it or would appreciate being taken there and shown around please just ask an usher or any Theatre staff member.
At relaxed performances, we serve complimentary tea and coffee in the bar area, and tickets for carers are free.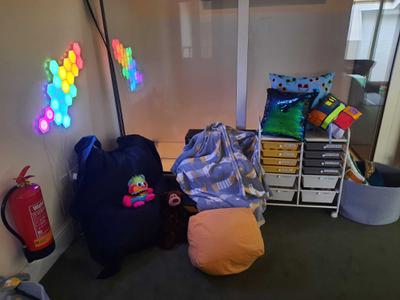 Who are they for?
Relaxed performances might be of special interest for people who find a standard theatre environment stressful. This might include people who are neurodivergent, people living with dementia or anxiety. However, there are many other reasons you might like to come to a relaxed performance. We find that relaxed performances can relieve anxiety for those who might need to access the toilet multiple times throughout a show, or for parents who are worried whether their child will be scared in a dark auditorium.
All are welcome at a relaxed performance - all behaviours and needs are accepted, and differences are celebrated.