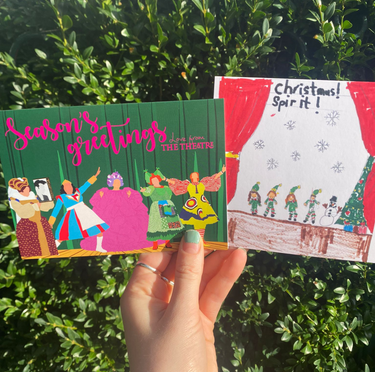 Christmas is coming...
Stories
24 Oct 2023
News Story
Earlier this year, we invited people to channel their creativity and design a Christmas card for 2023 that captured the spirit of The Theatre Chipping Norton. We were hoping for eye-catching and joyful designs from the public, and we were not disappointed!
Over the summer we received plenty of bright and festive submissions, and with help from the expert eye of artist Judith Yarrow, we whittled these down to two winning designs.
The junior category of the competition has been won by Grace Walker, age 6, with a colourful hand-drawn picture that features a theatre stage full of dancing elves. The winner of our open category (for anyone above Primary School age) is Caitlin Bayliss, with a striking digital design that features some of our previous iconic Panto costumes.
Both fabulous winning designs have been printed into Christmas Cards that are now for sale, raising funds for our beautiful theatre. The cards can be bought from our Box Office, either in person or by phone on 01608 642350. Alternatively, if you are booking tickets with us online, the Christmas Cards can be added to your basket just before payment.
Very well done to our winners, Grace and Caitlin, and thank you to everyone who sent in their designs. Watch this space for details of our 2024 Christmas Card competition…