Commissioning Circle
New, for our 50th anniversary year, The Commissioning Circle is being created to realise a spectacular project that will unite professional theatre-makers and Olivier award winning writers with around 200 young people and amateurs from across our community, in a theatre project that celebrates the place we call home.
"a theatre project that celebrates the place we call home"
For theatre lovers, literary enthusiasts or those passionate about the heritage of our countryside, this is a unique chance to enable two new productions and accompany them on their journey from 'page to stage'. In doing so, you'll gain a unrivalled insight into the creation of your play, with amazing stories and experiences to remember.
We are seeking just five or six Commissioning Circle members per production, each making a contribution of £1,500+ to help bring these special projects to life.

As well as helping to bring this project to fruition, other benefits for commissioning circle members will include:
Signed copy of the scripts and design drawings.
Unrivalled backstage access, attending rehearsals and planning meetings to witness how the production develops, regular updates including exclusive insights from the director and invitations to a dress rehearsal.
Credit in all materials including the production programme, and on Theatre's website.
Tickets for Circle Members and a guest to attend opening night, including the chance to meet the cast at a drinks reception after seeing the show.
Special Commissioning Circle collectors programme, signed by the full company, including a record of the plays development, the cast and production.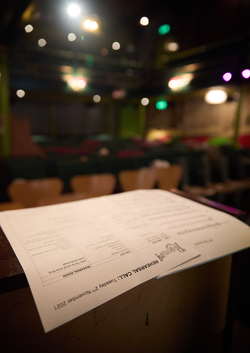 If you would like more information and are interested in being involved please contact Katie Shama via [email protected]