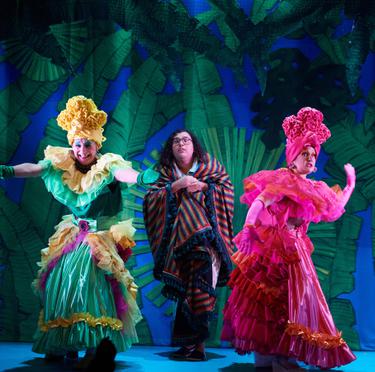 Cinderella Reviews
Stories
21 Nov 2023
News Story
The reviews are in! Have a read of all the fantastic comments we have had from press on our Pantomime Cinderella.
Reviews
The Stage

THE STAGE REVIEW BY DAVE FARGNOLI

Gentle, inventive panto refreshes the classic fairy tale with thoughtfully integrated Latin American imagery

Dressing the familiar rags-to-riches story in unexpected aesthetics inspired by Latin America, this cheerful, charming family show successfully balances traditional panto set pieces with fun, fresh ideas. Written and directed by John Terry with dramaturgical input from Colombian theatre maker Mariana Aristizábal Pardo, the script is packed with all the usual groan-inducing puns, but includes some heartfelt moments that dig a little more deeply into the characters' motivations. Here, Prince Charming is reimagined as the shy orphaned son of a coffee magnate, hosting a lavish ball just to experience some human contact.

Terry's staging is a little stiff and unpolished at times, but the show remains breezy, good-natured and inventive. The revised backstory is told in a sweet sequence in which delightful felt puppets, made by Tim Cherry-Jones, scamper around on a model mountainside. A smartly updated bench routine sees several people – and one classical statue – squeezed together inside an oversized poncho. And there is a flawless bit of slapstick business that involves several actors getting glued to each other, the furniture and a luckless member of the stage crew.

The score, by composers Rebecca Applin and Eliane Correa, features a handful of pleasant songs drawing lightly on Latin American musical styles. A feisty tango and some syncopated bossa nova beats stand out against more traditional – but significantly less memorable – piano melodies. The production has a bold look, courtesy of designers Pip Leckenby and Sophie Molyneux; the former's set places the action behind a proscenium of painted jungle foliage, with a curtain of leaves pulled aside to reveal a quaint pueblo of coral-pink and dusty-yellow buildings. Molyneux's costumes mash-up influences from flamenco and carnival, all ruffled sleeves and fringed mantles decorated with tropical fruit motifs.

Ainy Medina's Cinderella is a likeable protagonist. Resolutely kind and empathetic, she encourages everyone around her to be their best selves. Fabian Soto Pacheco is strong as awkward love interest Chico, struggling to overcome his shyness and provide leadership in his community, while Renan Teodoro has fun as an ambitious Buttons following his entrepreneurial dreams by founding a donkey-based delivery service in the mould of Deliveroo. Ian Crowe and Laura Gómez Gracia split the dame role as flawed but unexpectedly loveable stepsisters Quosimoda and Adnausea, more hapless than cruel, while Pepa Duarte channels two diametrically opposed energies in a double role: benevolent nature spirit Madre Monte and selfish stepmother Elsa, here reimagined as an exploitative landowner harming the natural world with unsustainable farming practices.

If the environmentalist message feels tacked on, it is nonetheless a welcome addition – one of many innovations in a production that puts a welcome twist on the traditional panto formula.
Red Kite Days

The Theatre Chipping Norton always put on the best panto in Oxfordshire and this year's Chippy pantomime is Cinderella … but with a twist.

Vibrant colours, engaging characters, upbeat music and dance and of course the hilarity that every great panto has, Cinderella ticks all the boxes as a great pantomime.

Cinderella is a classic panto story and can get very samey, but not so at Chippy Theatre. It follows the same story line but is set in the small town of Santa Maria de las Orejas de Soplill in the rainforest. At the interval, my son said it feels a little like Encanto and it definitely does have that flavour running through it.

It's always brave to try something a little different especially as The Theatre Chipping Norton have the reputation as home of the panto. What they've done so incredibly well is infuse a classic story with Latin American vibes but without losing anything that makes a panto a unique British tradition to visit over the festive period.

It wouldn't be Cinderella without her ugly sisters. Larger than life with vibrantly coloured attire, we laughed – oh yes we did! They had brilliant chemistry and you could tell they were having just as much fun as the audience. I must give a shout out for Simon and Ed in the audience who were great sports and totally got into the antics too

The ugly sisters connected with the audiences so well and you could hear giggles pealing out from younger kids, my teenager laughing away and the grown ups too. They've made the panto really accessible to all ages to enjoy.

With actors, musicians and theatre-makers from at least ten countries across Europe and Latin America we loved the energy and characters. It you've got younger kids, the panto can be a little scary at times too. The evil stepmother Madres Monte played by Pepa Duarte has just the right amount of meanness so we can give her a big boo without being too sinister. She also plays the fairy godmother, perfect as mystical lady of the rainforest with great storytelling and facial expressions.

Dominican-Austrian Ainy plays Cinderella with great vocals, a winning smile and a dash of humour at just the right times. Great to see this iconic role infused with her Hispanic heritage.

Cinderella's transformation was magical with an audible gasp from the whole audience. I'll leave it as a surprise for you.

Fabian who plays the rich 'prince' made his panto debut with aplomb, bringing all his stage and musical experiences with him but really getting into the swing of everything pantomime.

I can't miss out Buttons as he's so perfectly lovable. Originally from Brazil, he has the smilest of faces and had us all shouting, singing and laughing too. It almost felt like he'd stepped out of a Disney cartoon and onto the stage.

Special shout out has to go to the Pippins who were the young actors in last nights performance. They were so slick, professional, engaging and I was so impressed.

Chipping Norton Theatre is small in size but big in personality. You're close to the action and it feels so much more immersive without being overwhelming. What you can always expect is top class productions. Great actors, choreography, stage design, costumes, lighting, live music and everything else I probably don't realise goes on behind the scenes.
OX In A Box

IS THAT A BANANA IN YOUR POCKET? CHIPPY PANTO CINDERELLA IS A JUNGLE INFUSED EXTRAVAGANZA OF FUN FROM THE WORD GO!

By Ox In A Box -18th November 2023

The Chippy panto manages to pull something intoxicatingly joyous out of the bag year after year. But when Cinderella was announced we wondered how they'd add their inimitably magic touch to such a well known classic?

Set it in a jungle of course, give us two Latino dames for the price of one, endless fiestas and carnivals, rain forests, colour, noise, an evil banana plantation owner, some stellar delivery donkeys, huge spiders and a sound environmental message running throughout.

'AN ABSOLUTE SCREAM FROM START TO FINISH'

And what a riot of fun it was from the word go, as we rode along through the leafy rain forest to the small town of Santa Maria de las Orejas de Soplillo (St Maria with the Sticky Out Ears), where we met Cinderella (played so jubilantly by Ainy Medina) who is a staunch environmentalist trying to stop her nasty stepmother Madre Monte (Pepa Duartes) from cutting down all the trees.

Her best friend Buttons, or Buttocks as the dames call him, (Renan Teodoro) a giant teddy bear of a man whom we all instantly adored, is her partner in crime every step of the way.

'CINDERELLA'S TROPICAL, FAMILY-FRIENDLY, WARM-HEARTED STORY-TELLING PROVIDES THE PERFECT FOIL TO OUR COLD WINTER LANDSCAPE'

From meeting wealthy landowner Chico (Fabian Soto Pacheco) who is a shy, retiring chap desperate to make friends, to fending off the quite wonderful dames Adnausea (Laura Gomez Gracia) and Ian Crowe's Quosimoda, director/writer John Terry ensured it was an absolute scream from start to finish.

And it felt fresh, the entire story flipped so yes there was a happy ending, but the focus was not on a defenceless girl waiting for a prince to save her, but a survivor making do with a less than perfect scenario, totally immersed in saving her beloved jungle, rather than worrying about being rescued.

'AS FOR THE DADS IN THE AUDIENCE, THEIR PARTICIPATION WAS WORTH THE TICKET PRICE ALONE'

And the dames, oh the dames. They were absolutely fabulous in every sense of the word. Over-the-top, funny, with perfect comic timing, novel jokes and a real camaraderie between them. Loveable, endlessly silly and rude, they stole the show.

"No I don't want to see your ghoulies" was a wonderful rendition of their South American ghost song. And as for the dads in the audience, their participation was worth the ticket price alone.

'THE DAMES WERE ABSOLUTELY FABULOUS, OVER-THE-TOP, FUNNY, WITH PERFECT COMIC TIMING, NOVEL JOKES AND A REAL COMARADERIE , THEY STOLE THE SHOW'

The cast was absolutely terrific, from the word perfect local children, to the leads, galloping through Latin America in a cacophony of original song, dance, wonderful outfits and bright atmospheric sets, no stone was left unturned in Chippy's bid to whisk us away to the tropics, as we sang, shouted and laughed the night away.

So should you go and see it? Si, absolutamente! Cinderella's tropical, family-friendly, warm-hearted story-telling provides the perfect foil to our cold winter landscape.
Banbury Guardian

Nick Le Mesurier reviews Cinderella at The Theatre, Chipping Norton

​Pantomime at The Theatre, Chipping Norton, can always been relied upon to be a notch above just about every other pantomime in the country.

The company usually manages to balance the traditional aspects of the form - the knockabout comedy, the boom-boom jokes, the gorgeous and outrageous costumes, the beautiful heroine and hero, the dastardly villain, the cross-dressing and the audience participation - with something a little bit special, not least the very long run, roughly two shows a day from mid-November to Mid-January. Quite what it is, is often hard to pin down. It has more to do with quality than quantity. Something in the writing perhaps which satisfies an adult need for wit as well as slapstick laughs.

This year all the ingredients are there, but with an obvious difference. Now we are not in fairy land but in the Amazon Jungle. The music is Latin American and the language, well, a little of it, is Spanish. There is a strong eco-theme which runs through the plot that concerns danger to the Amazon rainforest. The wicked Elsa (Pepa Duarte), evil step-mother to the utterly beautiful Cinderella (Ainy Medina), wants to turn the jungle over to the production of bananas and beef for her beef 'n' banana burgers. But Cinders has the help of the fairy-godmother-like figure of Madre Monte (also played by Pepa Duarte), whose name means Mother Mountain. She sends Cinders to the ball and performs a magical sleight-of-hand dress change on the stage that is in itself worth the price of a ticket to see. Of course, Cinders gets her man.

We get not one but two pantomime dames in this show, the gloriously matched Quasimoda (Ian Crowe) and Adnausea (Laura Gomez Gracia), outrageously over the top in their dolly-mixture clothes, and desperate in their pursuit of the handsome but shy (and very rich) Don Francisco, aka Chico (Fabia Soto Pacheco), who of course loves Cinders all along. The ball scene is a glorious evocation of Carnival, full of colour and light and laughter, which had everyone's feet tapping.

Chippy's tradition of using local children to play the Pippins is there: Ivy Nolan, Archie Campbell, Vanessa de la Cruz and Isla Morris doing great work on the night I was there. Isla Morris in particular played the part of Dani, Chico's side-kick, with cheeky charm. Dressed in donkey costumes, they formed part of Buttons' (Renan Teodoro) delivery enterprise, Donkeroo. The ensemble was made up of Tamara Saffir, who also played the long-suffering Stage Manager, and Conor Mathers.

Pantomime both benefits and suffers from the weight of tradition. Audiences expect the familiar tropes, and they can be done well or not so well. At Chipping Norton they are all done with exceptional skill. The show is fast and funny, colourful and comforting. John Terry's production this year has added in a hefty slice of eco-consciousness and overt cross-cultural references, which makes it very contemporary and 'aware.' It takes some skill to pull off this mixture of the new with the old, and there were at times when I felt it might be edging towards being a bit too rich in references.

But this kind of brinkmanship is what makes pantomime exciting and is where the freshness lies. Chipping Norton Theatre is good at this, and their panto is one of the landmarks of the season. This year it goes global. It's a great journey.
Daily Info

If you and your family are fans of Encanto - get yourself down to this year's Chippy panto!

With the lilt of South American music welcoming us into the auditorium - where a theatre curtain depicted a lush rainforest - the audience was in for an exotic treat right from the start of this colourful jewel of a panto production. Chippy has a long tradition (50+ years) of producing and delivering its own fabulous Christmas production - punching way above its weight, as ever, for a small rural theatre - and this year's tale does not disappoint. A varied and very international cast - including a talented group of Pippins, the child actors who join the panto from local schools in most panto years - delivered a slick and beautiful show with all the style and ability of a much larger professional production.

The strong ensemble cast (from twelve different countries) and the partly concealed one-man band delivered the story of Cinderella as you've never seen it before, with all the style and musicality of the best recent Disney films presenting stories from around the world. With a Buttons who was faintly reminiscent of Olaf... and an evil stepmother called Elsa... and a fairy godmother made of the Mountains, a variety of influences knitted together to form a very pleasing example of good old fashioned British pantomime. Of course, we had to shout 'HE'S BEHIND YOU'... of course, we had a brilliant pantomime dame (actually two) and some hilarious/humiliating audience participation, plus flying sweets, risqué double entendres, a solid environmental and social message, more sequins than an episode of Strictly and even - some excellent puppets. Not only was the dancing, singing and choreography superb, but the sets were clever and beautiful, the fourth wall was healthily broken and we also got to sing a Christmas song (even if it was about a donkey instead of a reindeer).

All in, combined with the wonderful experience you can only gain by attending a show in a small historic theatre where you are so much closer to the action and thus so much more part of it, there was really no criticism to be made of this show other than that the enthusiastic solo orchestra occasionally dominated the vocals (particularly in Cinderella's solo numbers). It's early days of course so it's very likely this will be corrected in future showings. And perhaps if you bring your ear trumpet or your younger-eared child you won't experience that issue anyway.

Thoroughly recommended! Thank you once again Chippy Theatre.
Theatre Weekly

"reinventing panto traditions for the diverse world we live in"

Four Star Review from Theatre Weekly

The release of Disney's Encanto ignited a passion for the sounds, colours, and storytelling of Latin America. This festive season, The Theatre Chipping Norton bring this to their unique twist on the traditional pantomime Cinderella, relocating the story to a small town nestled in a lush rainforest.

The inhabitants of Santa Maria de las Orejas de Soplillo (St Maria with the sticky out ears) are accepting of everyone, the energetic opening number setting the scene for the positive messaging that's threaded throughout this joyful family panto.

Written and directed by John Terry, this Cinderella story replaces the Prince with Don Francisco, or Chico to his friends, the heir of a coffee bean plantation. Our heroine's father ran the neighbouring banana plantation, but it's now in the hands of her stepmother Elsa, and step sisters Quosimoda and Adnausea. The thrust of the story remains the same with Buttons on hand to aid Cinderella while setting up a delivery service as a side hustle.

What is very clear is how hard the theatre have worked to incorporate the culture of the Global South into the production; and it's more than just the authentic decorations that adorn the bar and foyer. There's a majority Latinx cast, and with Mariana Aristizábal Pardo as assistant director and Dramaturg, the world created on stage feels reflective of the places which have inspired it.

Ainy Medina is a fantastic Cinderella, and there's a lovely chemistry between Medina's Cinders and Fabian Soto Pacheco's Chico. Renan Teodoro cajoles the audience, particularly the younger ones, into shouting out and singing along, while Pepa Duarte succeeds in both the role of wicked step mother and this version's fairy godmother – Madre Monte.

Sophie Molyneux's vibrant and colourful costumes, particularly for the step sisters (played with wonderful wit by Ian Crowe and Laura Gómez Gracia), look fantastic, and continue the themes of Pip Leckenby's bright set design. The relocation of the action doesn't take away from the traditions of panto and everything we Brits love about the genre, from the innuendo for the adults, to the sing-along for the kids, it's all here in an abundance of fun.

Rebecca Applin and Eliane Correa's music is wonderfully catchy, and sound incredible under the musical direction of Archie Combe. These are lively songs which again reflects the Latin American culture while continuing to reinforce those positive messages. If anything, we could do with a few more songs in this Cinderella as the audience were clearly enjoying what they heard.

Joining the professional actors are a small, but super talented, young cast (The Pippins) who perform their roles with gusto. Everyone on stage is clearly enjoying themselves and it's not surprising because with this Cinderella the Theatre Chipping Norton are reinventing panto traditions for the diverse world we live in. On the whole this is a fun and well made panto that audiences will go bananas for.