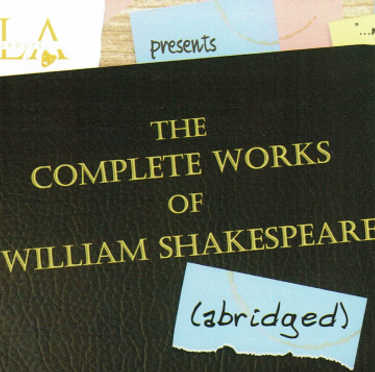 THE COMPLETE WORKS OF WILLIAM SHAKESPEARE (ABRIDGED)
What's On
–
About THE COMPLETE WORKS OF WILLIAM SHAKESPEARE (ABRIDGED)
by Adam Long, Daniel Singer and Jess Winfield
When 3 over-achievers decide that everyone needs to know more about Shakespeare, they attempt to perform all 37 of Shakespeare's plays and 154 sonnets in ninety-seven minutes.
Mayhem ensues in this fast-paced, witty and physical evening of laughter and frivolity.
Join BALA Theatre Troupe as they present this hilarious comedy from The Reduced Shakespeare Company's revised script.
Shakespeare lovers will love it.
Shakespeare haters will be disappointed in themselves.
This amateur production is presented by arrangement with Josef Weinberger Limited
About The Company
When Middleton Cheney based Lynden Players decided to produce The Complete Works of William Shakespeare (abridged), 4 crusaders set about the task of recreating the worldwide acclaimed show for the village audience.
Director Ben and cast Abi, Lee and Adrian, knew this wasn't enough for this exceptional show and, after the metaphorical curtain went down on the last night they all knew they had to take this to a wider audience.
From the blood, sweat and tears in rehearsals (literally), the excitement of opening night, the standing ovation after Friday's performance and the near bone breaking japes of closing night our 4 crusaders put their heads together and decided to take the show on tour.
And so BALA Theatre Troupe was born.
So we bring you our show, The Complete Works of William Shakespeare (abridged), from our hearts to yours. If you have half as much fun watching our show as we had creating it then you're in for a good night.
Look out for future productions…we're not done yet!
Related items
Theatre

OH WHAT A LOVELY WAR!

–

Music

JODIE NOLAN: EMPOWERED

Theatre

SPONTANEOUS SHERLOCK